So I've recently been working on some illustrations for an online card game called
The Far Wilds
and they've been kind enough to let me post my work so I'll put up some of my more exciting ones in the coming weeks.
These paintings have been a bit of a departure for me for a couple reasons. First, when shown in game they are reduced to 250x250 pixels, which is really forcing me to think and compose in a very efficient way-when you only have 62k pixels to grab someone's attention, you really have to hit them over the head on first sight and draw them in. Also the turnover on these is really high..I'm generally spending 6-8 hours per painting, including reference gathering. This is a bit of a departure for me as I generally like to spend a bit more time to really work things out.
One thing I really like about these assignments is the illustrative nature. Often I get not much more than a card title or a brief description of the concept, and I've basically got one moment in time to capture it- in this case, the card was 'the double agent'. I used the theatrical conept of an 'aside' where an actor will communicate directly with the audience to relay information that is not known to the other characters. Here, the foreground character is giving us a wink to let us know the other guy is about to get the ol' shank.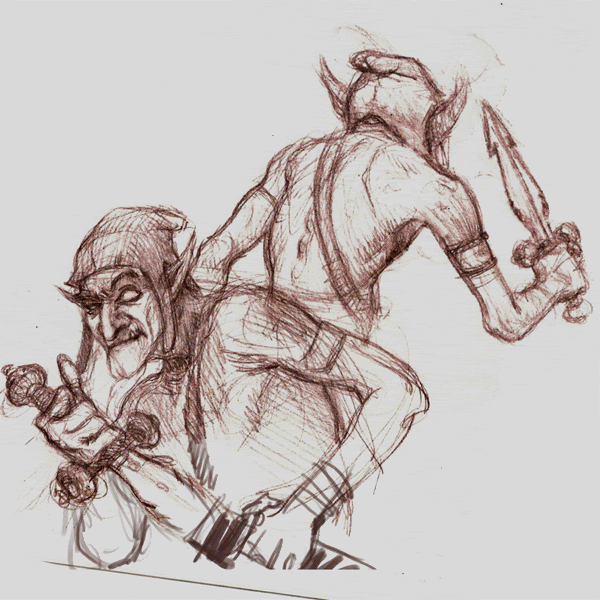 Finally,here's some in progress stuff which i've been promising to save more of, now in glorious GIF format. one thing to note is that i think i lost a bit of the original expression of the foreground guy as I went from sketch to completion...rats.
on a side note, special thanks to a certain A. Lluch for technical support in the crazy world of blogger.